Podcast: Play in new window | Download (Duration: 31:42 — 14.5MB) | Embed
Subscribe: Apple Podcasts | RSS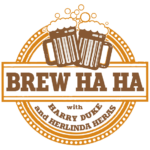 Brew Ha Ha is back, with Natalie Cilurzo from Russian River Brewing Co. and Jenny Ogston from Victory House at Poppy Bank Epicenter. The Drive with Steve Jaxon is back on the air, on Wine Country Radio 95.5 FM, weekdays 3-6 pm. The Drive is also streaming at TheDrive955.com. Brew Ha Ha is also back on Thursday afternoons on The Drive. Steve Jaxon is hosting today's episode, along with Herlinda Heras.
Herlinda Heras is just back from Finland where she was judging the Sahti competition there. She talks about being a judge at competitions around the world. Some are in countries with long beer traditions like Germany, Belgium and Poland. Others, like Portugal, are developing new brewing industries now. In Finland, the Sahti is a traditional brew that dates back to Viking times.
Jenny Ogston talks about how the Victory House is set up for the coming football season. They have over 40 TV screens just in the Victory House area of the Poppy Bank Epicenter.
Russian River Brewing News
Natalie Cilurzo has news about the Russian River Brewing Co. and their dog-friendly location in Windsor. The beer garden is open every day and the pub is open Wednesday through Sunday. The beer garden has lots of shade. They also have a couple of new statues from the Schultz Museum. She got a set, of Peppermint Pattie and Marcie playing frisbee. They are on display in the beer garden. There are pictures on the Russian River Brewing Instagram page.
Line Dancing at Victory House
Victory House now had Country line dancing, with free lessons on Tuesday nights and large events on Friday nights with DJs. They also have bingo on Wednesdays with Harry Duke and trivia on Thursdays. Poppy Bank Epicenter has everything from indoor soccer, basketball, volleyball, trampolines and bowling. They also have laser tag, virtual reality and a large arcade with lots of old and new games. They host big events and just had their largest one ever for 1500 guests. There is something to do for the whole family. They used to have axe throwing for about one eight-month period, which was fun and frightening.
Russian River Brewing Co. is approaching its twentieth anniversary next year of the downtown Santa Rosa pub. It is also the twentieth anniversary of Pliny the Younger. Natalie talks about a seasonal release called "It takes a lot of great beer to make great wine." It is a light and refreshing hoppy blonde ale, about 5.25% alcohol.
Russian River Brewing Co. is finishing a construction project at the Windsor pub, turning one of their production spaces into a Lager house. They will brew more STS Pils and Velvet Glow Lager. The package will be a 6-pack of 12-ounce cans for the first time, which will be available in November or December.
Hop Time Harvest Ale is coming out soon, using all Alexander Valley grown hops. Also, Natalie and Vinny will be making their annual trip to the Pacific Northwest to select hops from this year's harvest.
The Fall Season at Epicenter
The Fall is a busy season at Epicenter. Victory House is their feature bar, with 24 beers on tap. Half of their beers are locally produced. 25% off arcade games, bowling and more, Monday-Thursday from noon to 6pm, entertainment is 25% off. Kid's Night Out is every second Saturday of the month, and there is live music from local bands on Saturdays. They also have Comedy Night one Friday a month.
The also taste another RRBC brew, Hop Father IPA, which is named after one of Vinny's nicknames.
By the way, "Hop Father" in Latin would be PATER LUPULI. 
Finally, Natalie describes a charity collaboration to benefit Maui that Russian River Brewing Co. is participating in. After the fires that struck the island recently, hundreds of breweries are participating by brewing the special recipe and sending the proceeds to Maui fire relief efforts.