Podcast: Play in new window | Download (Duration: 18:02 — 16.5MB) | Embed
Subscribe: Apple Podcasts | RSS
Fal Allen from Anderson Valley Brewing Co. and Gabe Jackson from The Beverage People are both on Brew Ha Ha to talk to Steve Jaxon and Herlinda Heras. Fal Allen was on this show two years ago, in August of 2018, talking about his Gose beer.
The Beverage People sells kits for brewing specific types of beer, including one that uses Anderson Valley Brewing's recipe for Gose style beer. This is a German style that AVB has been making and now its recipe is available to home brewers.
The Beverage People has been supplying Sonoma County home brewers since 1980 with equipment, ingredients and expertise, for making beer and wine at home but also mead, kombucha, cheese, olives, and more. During the pandemic a lot of people have started baking bread, and they all agree that these folks should also try brewing beer.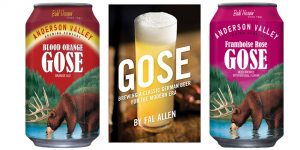 Gose is a German sour wheat beer that is one of the oldest beer recipes still in use, even if it is very unusual even for a German beer. It was popular in the 1300s then later in the 1700s and 1800s in Leipzig it became popular. Then it became popular in the 1980s in Germany. Fal Allen has actually written a book about Gose style beer. It is 4.2% alcohol. It's a new trend in craft beer to have less alcohol. Herlinda says that in England there is an extra tax on beer over 4.5% alcohol, which goes to transportation services.
Gabe Jackson talks about the importance of having pleasant and productive activities during the pandemic "mayhem" as Steve Jaxon calls it. Herlinda mentions that they are always available to give personal advice to their customers about how to use their equipment, and that this is nicer and more productive than just looking things up on line by yourself.
Fal Allen mentions that the next recipe that Anderson Valley Brewing Company will provide to The Beverage People may be their very popular Boont Amber Ale.
They remember the late Byron Birch, who founded The Beverage People. Gabe Jackson calls him their "spirit guy" and says that beer was like his religion. When Byron started the store, there were almost no books about home brewing, but that he had written one. Fal Allen started in beer as a home brewer, using Byron's book and remembers him as an important mentor.
The Anderson Valley Brewing Company brewpub is closed right now and Fal Allen says they are renovating it during the closure to turn the entire 23 acres into a German-style beer garden. There is camping space for over 4000 people, between the brewery and a nearby park. In 2021 they hope to return to their usual late-April date for the beer festival and also possibly Oktoberfest. They also have an 18-hole disc golf course.
Herlinda mentions Russian River Brewing Co. is also promoting Pliny for President 2020 and their Black is Beautiful beer. The outside patio is open at RRBC and the bottle shop is open. You can sit outside at their 4th street Santa Rosa location.
The Beverage People's staff are always available to give advice about using their stuff. Visit the Beverage People dot com.  They have all you need to make beer, cider, wine, cheese, kombucha, olives and more. You can order anything and pick it up in person at their store on Piner Road, or have it delivered to you.