Podcast: Play in new window | Download (Duration: 30:38 — 14.0MB) | Embed
Subscribe: Apple Podcasts | RSS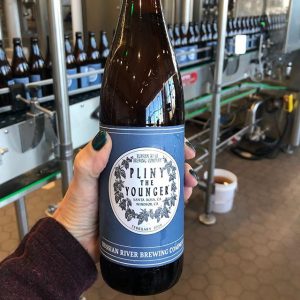 Today on Brew Ha Ha, Natalie Cilurzo is here from Russian River Brewing Co., with some bottles of this year's Pliny the Younger, one day before the public release, which is tomorrow, Friday February 7, 2020. Brew Ha Ha and The Drive are pleased to host the Pliny the Younger unveiling again as we did last year at this time.
This is the first year that this beer will be put in bottles. Pliny the Younger is their rarest and most sought-after beer. They decided that this was the year to put it in bottles, although they will only be sold in the brewpubs and none for distribution. There is only a certain amount every day.
People came last year from 40 different states and 17 different countries, for the Pliny the Younger release. Customers can only get two bottles per person per day. Their new Windsor facility is larger and has ample parking, for those who are planning a trip.
Herlinda asks Natalie to recap what is Pliny the Younger. It is a triple IPA, this is its 16th year. Vinny Cilurzo wanted to take their Pliny the Elder recipe, their flagship double IPA, and increase the malt, alcohol and hops.
She is pouring this beer from their Windsor facility, made with open top fermentation, which creates softer beers. This is 10.25% alcohol. Steve and Mark agree that you wouldn't think it is that strong, because of its great flavor. There are 8 different hop varieties, such as Simcoe and Amarillo. This year they added two new ones, Mosaic and Nelson Sauvin. It is very dry, and Natalie notes that this is a characteristic of Russian River beers. Mark Carpenter agrees that it's a fabulous beer, well-balanced, you can taste the alcohol but it's not overpowering, nor are the hops.
When the World Discovered Pliny the Younger
Russian River Brewing Company has several other beers, including a couple that are also being released today. This particular beer started as a February release in 2005. In 2010, the day that Vinny came to the brewery to open the doors at 7am, there was a line of people outside the brewpub, which there had never seen before. They were there before 7am for a noon opening, for Pliny the Younger, and told Vinny that Joe Tucker of RateBeer.com had rated it the best beer in the world.
This was the very beginning of social media networking intersecting with craft brewing. Suddenly, there was a pilgrimage to their brewery. She remembers the day vividly. Every single person bought their limit. They sold all the beer in 8 hours. (A growler is a half gallon bottle.) They never pushed it, it just got recognized. She doesn't buy advertising and it's really consumer-driven.
They are making this recipe in both of their locations and the two batches are slightly different. Mark Carpenter agrees that it is difficult to get exactly the same results from a beer recipe made in different locations. The downtown pub is open from 11am to midnight every day. The Windsor location is open from 11am to 10pm during the week (Sunday through Thursday) and until 11pm on Friday and Saturday. Natalie also mentions that they reclaim 75% of the water they use and they use reclaimed water for their landscaping.