Podcast: Play in new window | Download (Duration: 22:23 — 10.3MB) | Embed
Subscribe: Apple Podcasts | RSS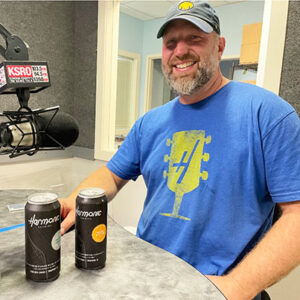 Harmonic Brewing co-founder and brewmaster Ed Gobbo is our guest today on Brew Ha Ha with Harry Duke and Herlinda Heras. He begins by telling how three buddies started Harmonic Brewing. Ed was a chemical engineer for a pharma company and his two friends worked in Internet advertising. They were making beer for a party of 100 friends and the whole thing just took off from there. The brewery is located in the Dogpatch area of San Francisco, and also in Thrive City at the Chase Center, where the Golden State Warriors play. They make a full range of beers, but mainly, what they love to drink. For example, the Mexicali lager is lightly hopped, with Mazueca hops which have a hint of lime.
How Local Is That?
They look at themselves as a community brewery. Harmonic Brewing got in touch with the Warriors because they are tied into the community. They did a lot of community events together and then were invited to a location in the stadium. They also use malt from Admiral Malting in Oakland.
The name Harmonic brewing comes from the partners' love of music, they are also musicians who play together. The brewery "the mother ship" in Dogpatch has a different food truck every day, Tuesday through Sunday. That is dog friendly, they do not have a kitchen. In the Chase Center with the great view, it's service animals only.
Harmonic Brewing's Dogpatch taproom is located at 1050 26th St., San Francisco, CA. Tuesday 4-8, Wednesday, Thursday and Friday 3-9 and Saturday noon-9 and Sunday 12-6.
They were looking for a location all over the city but the Dogpatch location seemed the most ideal. It is industrial and is attached to a metal shop. They built all the metal furniture there too, and the metal tap handles. The community is awesome. There is an active neighborhood association and everyone knows everyone else. Since they moved in they have found the neighborhood to be fertile ground for collaborations with like-minded brewers. Their setup at Thrive City in the Chase Center is made to handle high traffic in short bursts.
Samplings of Harmonic Brewing
Ed has brought some different Harmonic Brewing products, including the ones in the picture above. They also use malt from Admiral Malting which uses a specially developed strain of barley that grows in California. They personally convinced some farmers to grow a strain of barley with a lower protein, for the brewers. The result is very flavorful beers, like this one called Yeast of Burton.
You Love to "C" It uses 100% Citra hops. They are also proud of the Dogpatch water, which comes straight from Yosemite via the Hetch Hetchy aqueduct, and is very clean and pure tasting.
Ed's family is from Istria, in Italy, near Croatia. His parents are from Croatia and his family also has an Italian palette that comes from all the Italian foods like mozzarella and prosciutto that they make.
There is a San Francisco festival called Brews On The Bay, and it is Ed's favorite festival. It is held on a former warship. The breweries set up on the ship and they enjoy a view of the bay and the city.