Podcast: Play in new window | Download (Duration: 17:02 — 15.6MB) | Embed
Subscribe: Apple Podcasts | RSS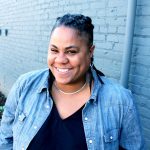 J Nikol Jackson-Beckham is our guest today on the Brew Ha Ha podcast, with Steve Jaxon and Herlinda Heras. She is a scholar, writer and equity and inclusion strategist for the craft beer industry. She is also the newly-appointed Diversity Ambassador for the Brewers Association. She is based in Richmond, VA. She was an undergraduate at Virginia Tech in the late 90s and had a job in a bar that served many different kinds of beer. They offered her some to taste and she would select the most expensive ones, and got to know the best beers that way. Jump-cut to today, and in her professional role as head of beer diversity, she helps organization become more inclusive, equitable and to reach more people in the community.
Dr. J Nicol Jackson-Beckham was recently named Imbibe Magazine's 2020 Beer Person of the Year and has appeared in the press and online many times to share her expertise.  Dr. J also has her own consulting business called Craft Beer For All (dot com).
In a recent article called "Feeling Helpless? 15 Things You Can Do To Fight Racism and Work For Social Justice" she describes one perspective and suggests some answers to the question, "What can I do?" Dr. J describes hearing many people wonder what they could do to improve the situation. When the issues involved are so big, our individual opinion can feel puny and powerless. But she wants to shift the way we think about activism and social change.  While protest creates urgency, if there is no policy behind the protest, nothing will happen. So people can get involved in sustaining efforts to make change, including organizing voting to elect representation. Also, there are ways to contribute which draw on a wide variety of profession skills as much as financial support. There are many ways to lend skills and craft to a sustained public effort. There is not one correct way to be an activist.
She remembers working on her PhD thesis and mentions the importance of limiting your scope. She discovered a lot of fascinating cultural issues around beer while she was writing her dissertation about economic value, not cultural issues. What started as a set of side issues became her professional focus as it was picked up by some brewers. Colin at Hen House contacted her about this in 2016 because they had read a blog article she had written.