Podcast: Play in new window | Download (Duration: 14:23 — 6.6MB) | Embed
Subscribe: Apple Podcasts | RSS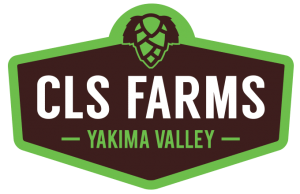 Eric Desmarais from CLS Farms in Yakima, Washington, is our guest today, with Herlinda Heras and Harry Duke, who is sitting in for Steve Jaxon, on this edition of Brew Ha Ha. Eric joins us on the telephone from Yakima, Washington, which is the world's largest hop growing area.
This Summer, the weather up there was rather hot and Herlinda asks what will happen to the hops with 113 degree weather. This was very unusual, as the previous record was 111 degrees, and the hottest weather usually comes in July and August, not in June, as happened this year. They might have had one day that hot in a season but this year there were 3 or 4 days in a row of it. Eric has been in the hops business for 30 years. He says that the appearance of the craft brewers about ten years ago really changed the market and revived the business by bringing more demand. Yakima is a unique place to grow hops. It is very dry and very far north, for a desert climate. They also have the Cascade Mountain range that blocks the wet weather coming from the west, and creates a watershed for irrigation. These conditions allow them to grow hops of the highest quality.
There are about 25 or 30 commercially grown varieties of hops. Some withstand the heat better than others. Two of the largest varieties of CLS Farms' crop that got affected were Citra, the No. 1 most popular variety, which took a hit, so did a variety called Cashmere. Hops do have an ability to recover because they are a fast growing plant. However the young plants are most sensitive to heat and those were the crops that took the most damage. They get damage from the flower stage to the cone stage, but they were not in the flower stage. They actually saw burning of the vines at the top portion. The plants were going into self-preservation mode. Hops are usually a very stable crop, with only about 2-3 percent of natural variation but there is about 5-15% lower yields. The heat slowed down their growth.
CLS Farms provides hops to many craft brewers, in particular to the California brewers, such as Sierra Nevada, Stone Brewing and Ballast and Urban Roots in Sacramento. Eric's daughter is their fifth generation in the hops business.
They are all drip irrigated, so they were able to take some really aggressive steps to help the plants through the heat. They also had to retrain some hop plants go grow higher. This is the key time in the growing season and they will still see how this year's crop comes out. Herlinda invites Eric back for a later episode to see how the crop turned out.