Podcast: Play in new window | Download (Duration: 19:33 — 9.0MB) | Embed
Subscribe: Apple Podcasts | RSS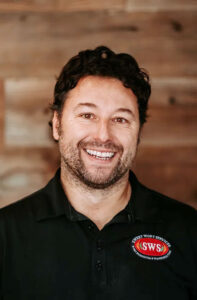 Sandro Tamburin,  Old Possum Brewing Co. brewer, joins Herlinda Heras and Harry Duke on today's Brew Ha Ha.
Herlinda Heras  was recently in Bologna, Milano and other parts of northern Italy to be a judge at the Italian national beer competition. She has brought some Peroni beer back, it is a popular lager. And since she was there at Easter, she brought back a "colomba pasquale" which is a kind of cake called an "Easter dove" which is a sweet egg bread similar to panettone (without the bits of candied fruit) shaped like a dove in flight.
There were 2000 beers and 63 judges (75% of whom were Italian) at the Birra dell'Anno, the annual Italian national beer competition. On the first night, the Italians all brought something from their region. She tasted the best buffalo mozzarella, for example. The winners will be announced in Parma next week.
Herlinda describes an IGA, Italian Grape Ale, made with must, which is grape juice. (The word comes from the Italian word il mosto, for the unfermented grape juice which is intended for wine.) Then Sandro describes a Stout brew he made in collaboration with King Kong Brewery in Sacramento. It is Cabernet + Stout + co-fermented in whiskey barrels. Sandro thinks it tastes closer to a glass of wine. Herlinda tells about bringing some Pliny the Younger bottles to Italy, and everyone was very eager to taste it. Sandro has also been the winemaker at D'Argenzio Winery since 2014.
Old Possum Brewery has extensive food choices. On Monday it's Smash Burger, Tues-Sat. their chef does Texas Cajun and Friday and Saturday, southern barbeque. Old Possum is located on the road just south of Hen House. They have a long bar and indoor seating, with a heated tented patio. Follow the Old Possum Instagram page for up-to-the-minute news about menus and music at Old Possum Brewery.
Trieste is Sandro's hometown and it is very close to Slovenia, so they often drink Sovenian lagers when he's at home. The Italian Pilsner style has become popular in the US. It is like the German but has a different yeast and a brighter refreshing flavor. This one is called Lupo, which is close to the word for hops (which is luppolo). Pond Farm Brewing in San Rafael produces it. They will be guests on Brew Ha Ha in an upcoming episode scheduled for May 26.