Podcast: Play in new window | Download (Duration: 20:42 — 28.4MB) | Embed
Subscribe: Apple Podcasts | RSS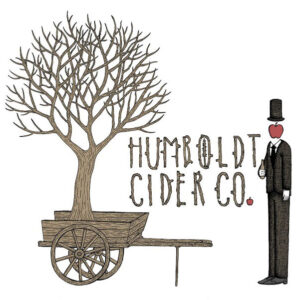 Tom Hart, co-founder of Humboldt Cider is our guest on Brew Ha Ha with Harry Duke and Herlinda Heras, with special guest Peter Lopez. Peter is the founder of NorCal Beer Geeks and he also runs the Juncture Taproom in Santa Rosa.
Tom Hart started Humboldt Cider in 2014 with his partner. They saw an opportunity for cider and started learning how to make it for local events in small batches. For a location , they renovated an old milking barn. Most recently, they started canning during the pandemic. This was an initially forced transformation of their business but it has worked well.
First to be tasted is their Drysdale Cider, made with 4 different culinary apples, golden delicious, granny smith, fuji and gala. It classifies as a dry cider on the dryness scale.
Juncture Taproom
Juncture Taproom is celebrating its 6th anniversary. He has been planning this celebration for a long time. NorCal Beer Geeks and Humboldt Cider have made a collaboration called Sally's Jamaica. It is flavored with Jamaica flower like the refreshing Mexican beverage which is made from Hibiscus flowers. It makes a light and dry apple cider. They are bringing in all the musicians and food vendors who are with them all year too, for the celebration. Juncture Taproom is located at 4357 Montgomery Drive, at the corner of Mission.
They are also tasting the Cherry cider, flavored with two kinds of cherries, Montmorency for tartness and Morello for color. This won gold at GLINTCAP, the Great Lakes International Cider Competition, which is the biggest cider competition in the country. It won despite their fear of heat damage before the tasting.
NorCal Beer Geeks collaborates with VetConnect, to help veterans with all kinds of personal services, including helping them navigate available services, because sometimes some veterans are not even aware that they are eligible for certain services.
The last Humboldt Cider product tasted today is the Gravenstein Cider, made with fruit from old trees in northern California, which used to be more abundant, and which produce the best cider out there.
Visit Humboldt Cider online at their website, their Faecbook or Intsagram.