Podcast: Play in new window | Download (Duration: 34:14 — 15.7MB) | Embed
Subscribe: Apple Podcasts | RSS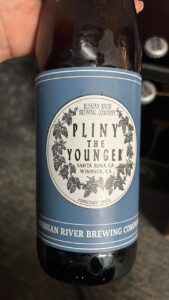 Natalie Cilurzo is in today with Harry Duke and Herlinda Heras for the debut of Pliny the Younger, the incredibly popular and world-renowned beer from Russian River Brewing Company. They are also working on an international collaboration with a Ukrainian brewery, part of an international call to action, to breweries to brew this beer and donate the proceeds to Ukrainian refugee relief. RRBC is releasing theirs on April 1 along with a special brewing of their Defenestration beer. All of the proceeds are going to humanitarian efforts for Ukraine. The strong golden ale will be relatively low alcohol, and the other will be higher in alcohol and hoppier.
This year they brewed Pliny the Younger but they had to hold it back due to public health concerns. The recipe it the same as last year's edition, with a total of ten different varieties of hops. Elixir is a French hop, with a spicy, citrus-y berry note. They think it adds an interesting strawberry note to the beer this year. Otherwise, it has typical Russian River Brewing Co. characteristics, very dry with a balanced finish, deceptively smooth.
Natalie says that this feels like "a typical Covid wedding" that has been postponed a few times but it is finally in motion. They have even been able to hire back a couple of tour guides and they also have a self-guided tour. The postponement has been a blessing in disguise since they are better prepared this time.
"Cheers to resilience and perseverance, and to beer keeping the world going around and friendship through beer." –Herlinda Heras
Pliny the Younger is golden and has a nice white head and a dry finish. There are rules for the public serving of Pliny the Younger in the pub and they are almost the same as last time, except the time limit is two and a half hours, down from three hours, previously. They wanted to have a little more time to clean the places between guests, and also to keep the line moving. They also limit everyone to three 10-oz. pours.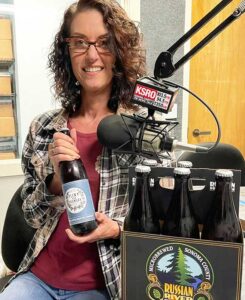 Natalie recommends that if people are tasting other beers, they should have them first, and have some food, before trying Pliny the Younger. This is a seated food and beverage experience and Pliny is such a significant beer that you mustn't expect your palette to be able to deal with other brews after tasting it. The only way to get bottles is to wait in line for your allotment. The dates are March 25 through April 7, daily at both pubs, 11am to 10pm. They are allocating a certain amount of beer for each day, based on their estimate of daily need. Only on rare occasions have they run out of either draft or bottles on a busy Saturday. Some folks are already on line now. They had trouble once in 2010 with counterfeit wristbands so now they have custom made ones that are more secure.
Herlinda Heras points out that this event is recognized as ann important driver for tourist activity in the area. The Sonoma County EDB (Economic Development Board) has estimated the total economic impact in 2020 of more than $5 million dollars. Natalie says that she and Vinny are most proud of that fact.