Podcast: Play in new window | Download (Duration: 30:16 — 13.9MB) | Embed
Subscribe: Apple Podcasts | RSS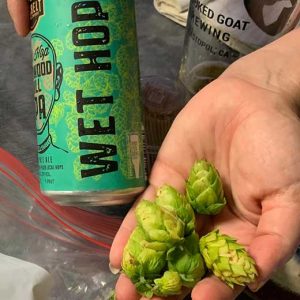 Wet hop beer is the subject and our guests are from Old Possum Brewery, Scott Weiss from Redwood Hill Farm (where they produce great local goat cheese) and now Redwood Hill Hop Farm, and Sandro from Old Possum Brewery. Herlinda Heras and Mark Carpenter are also in today. Old Possum Tap Room and Kitchen is located in Santa Rosa (off Standish at Sutton) and have been open for a year and a half. The got started by transporting wort to local breweries. Later they decided to start producing too.
They try to up-cycle whatever they can, their tasting room was built with all used equipment. Sandro is from Trieste in northeastern Italy. He worked in wine, with D'Argenzio in Sonoma County and other places. He still makes wine but he has moved into beer too.
There are fresh hops in the studio, see the pictures of the Cashmere hops. This is their third year selling hops to Sonoma County brewers and also to Richmond, San Rafel and Napa. They also have produced goat cheese for 50 years and have brought some of that.
They also brought the Fog Belt Wet Hop Beer (pictured), which uses their hops. Since there are so many breweries in Sonoma County now, and so many new hop growers, there are a lot of wet hopped beers. They have to use the fresh hops quickly so their proximity is an advantage. They appreciate the grassy taste and compare it to using dried or fresh basil in a recipe. They have brought Cashmere and Common hops. These are new public varieties. Some varieties are proprietary where the breeders have the rights for as few years. They grow 7 different varieties on about 1.5 acres, and they are expanding. They use the organic matter "goat berries" from the goats to help fertilize the hops. Deer and gophers don't like hops so that's fortunate. The hop shoots can be cooked and eaten as a vegetable, or also pickled. Mark says they're not that good but they're seasonal and people like them.
They taste the Old Possum IPA and Mark says he likes the name. Possums are cool animals and they show up at night at his house to eat grapes. They also eat ticks, which is nice. They produce about 500 barrels for the tap room and they are developing their wholesale accounts. They have canning on the horizon.
Sandro worked with Dr. Charlie Bamforth at UC Davis. They are located at 357 Sutton Place, off Standish, exit Todd Road, in Santa Rosa. Exit Todd Road, go west, turn right on Standish and left on Sutton They are open Wed-Sun noon-8 or 9 on weekends. They will also be at the Freshtival on October 12. Sandro will make a special IPA for the festival.
Sandro is also a winemaker, working for his father in law, Ray D'Argenzio at D'Argenzio Wines. They make Italian varieties Dolcetto, Sangiovese, Barbera, and they even found some Montepulciano in Kenwood this year.
Redwood Hill Farms has a herd of goats and the farm is open for visits in the Spring, which is fun when the young goats are running around. His parents started the farm in 1968. Their cheese is famous because it's so good and Herlinda says it goes fantastically with the Wet Hop Beer.
The website is redwood hill dot org
Mark reminds us that Hopland was named after the many hop farms that used to be in Sonoma County. They need a lot of hours of light, so more northerly locations are advantageous. There are many in Yakima Valley which is at a similar latitude to hop growing regions in Europe. Hops are coming back and there are 15 growers in the NorCal Hop Growing Alliance.