Podcast: Play in new window | Download (Duration: 13:52 — 6.4MB) | Embed
Subscribe: Apple Podcasts | RSS
Hazy beer and Anchor Gin are the topics of the day, live from the new KSRO studio with Mark Carpenter and Herlinda Heras, who is just back from Europe.  Mark brought Sierra Nevada Hazy Little Thing IPA, what they call a "New England IPA" meaning it's hazy. An Englishman would send it back. Mark explains that the first highly hopped beers were difficult to filter to make them clear. When they first tried to sell hazy beer, people wouldn't buy it but now people like it. They're even selling some in England. Steve says that you may as well call it foggy.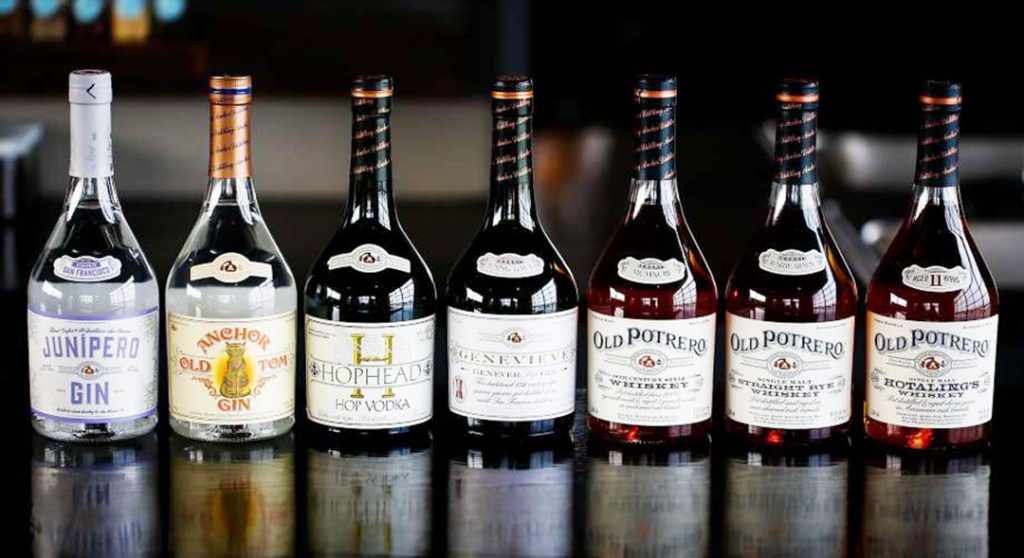 Steve asks Mark about the Anchor Gin, Mark says it is still happening and Herlinda tells about how she found it while travelling in Spain. Mark tells the story of how Anchor Gin got started. After they started making whiskey, they also started making gin. It was about 1997 when they first released the gin. They started the project in 1995 and they tried to keep it secret. When they were in the lab tasting gin, which looked like water, there would be some guests passing through and Fritz Maytag (Anchor's owner) told the guides to tell the guests that they were merely tasting the water.
Herlinda is just back from a trip to Portugal and northern Spain, including Bilbao, Basque country, Rioja and Madrid. She brought a Portuguese gin in a blue bottle called Blue Magic Gin
Sharish, the brand, won the World Spirit Championship in their category, in gin, last year. It is about to become available here. It is flavored with Angelica, a floral bitter, lemon peel, ginger, cardamom, cinnamon and a flower that gives it its blue color.
Tonic water has quinine in it. This gin does a trick, when you add the tonic, the gin turns pink or lavender color. It's a botanical gin that does not have any juniper in it. Mark points out that usually, juniper is in any gin but he does not taste any in this. Mark says it reminds him a bit of Angostura bitters and Herlinda says the Angelica is what matches that flavor. It also has cardamom in it, which is the sharp note in Chai tea. Mark points out that it is also a major ingredient in Coca-Cola. Herlinda adds a lemon peel, which they serve with it in Europe. Herlinda also brought a Basque sheep's milk cheese.