Podcast: Play in new window | Download (Duration: 5:02 — 2.3MB) | Embed
Subscribe: Apple Podcasts | RSS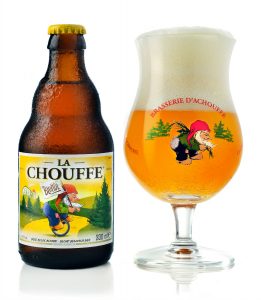 Today Herlinda Heras tells about La Chouffe Beer from Normandy, which she discovered recently. Pete Foppiano is sitting in for Steve Jaxon today, on a special abbreviated edition of Brew Ha Ha (cut short for the last time this season for an NBA basketball game on home station KSRO).  Herlinda and her father, a Navy veteran, are just back from France where they attended the 75th annual commemoration of the Allied landing in Normandy on D-Day.
Herlinda was in charge of finding the good places to find food and beer on the trip through, France, the Netherlands, Belgium and Luxembourg. In one place, you got a tab card, and you could swipe the card to pay for your selection from among 200 taps.
At one point, they were in Wallonia, the French part of Belgium. Herlinda met the founder of La Chouffe beer, who knows Mark Carpenter. He may visit California to see Mark and other friends in the beer business like Pete Schlosberg.