Podcast: Play in new window | Download (Duration: 22:32 — 10.3MB) | Embed
Subscribe: Apple Podcasts | RSS
This week Brew Ha Ha welcomes Pimi from Chang Beer in Thailand and Mark Carpenter has a preview of this year's Anchor Christmas Ale. (This show was recorded on August 10, 2017.)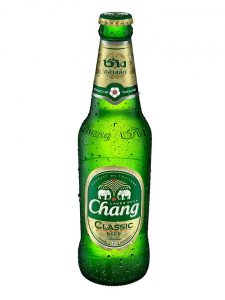 The brand name is really pronounced "Chong."  Herlinda went to the Thai food festival a few weeks ago and saw Chang Beer was the only beer there. They import all of their products from Thailand. The Thai food festival was hosted by Chang Beer and Pimi says they thought it was their duty to promote Thai food and beverages. Last year they did it in LA, this year in San Francisco, and they are going to do it all over. They brought in a chef from Thailand and paired beer with many local food vendors. They have held the event in Singapore, London and the US.
Chang Beer was launched in 1995 when Thailand opened its market to beer. They are one of the larger breweries in Thailand and are not exporting to 50 countries. The other big brewery in Thailand is Singha.
Pimi explains that according to Thai law, you have to produce 200,000 barrels to produce beer in Thailand, which is more than a craft brewery can produce. So their craft beers are made in Japan. Mark notes that Japan used to have that law too. He points out that these laws are made by the bigger brewers to keep out competition, but that market demand can drive legal reform. Pimi explains that the trend toward craft beer is driven by the demand from tourists.
Now they taste a Chang lager. Mark says it's as good as any German lager, and tastes like it has German influence. It's a refreshing, clean taste. Pimi likes to say it "mingles" well with paired food. Mark thinks they are doing a good job of keeping the beer fresh and cool.
We learn that "Chay-Oh" is "cheers" in the Thai language. Pimi tells about how attractive Thailand is as a destination, with its fabulous old temples, food culture and fantastic beaches. As the National Brand Manager, Pimi travels around the US. Her colleague has brought her pet bulldog that Steve loves.
Chang also has some other brands, but the main Chang brand is the only one in the US. The company also makes Thai Rum and other beers. Pimi calls it Pacific Rum and that it has different aromas, different aging and different kinds of barrels. Theirs has additional ingredients including Thai spices, so they have to call it "Thai Spirits" but it is basically their take on spiced rum.
Next they taste the upcoming Christmas Ale from Anchor. Mark Carpenter was back visiting Anchor last Monday night and got a bottle of it. He explains that they brew it this early because it has to ship to Europe. Mark describes it as a nice spicy chocolatey ale. Steve Jaxon can't resist playing The Christmas Song ("Chestnuts roasting on an open fire…") even as the show is being recorded in August. Mark says he thinks that Christmas Ales were started so brewers could sell more beer during the slow time of the year.