Podcast: Play in new window | Download (Duration: 35:41 — 16.3MB) | Embed
Subscribe: Apple Podcasts | RSS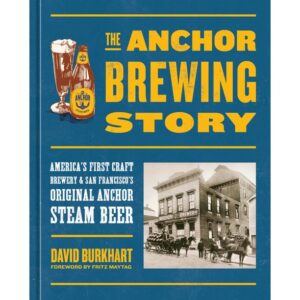 Anchor Brewing historian Dave Burkhart and former Anchor brewing chief Mark Carpenter join Harry Duke and Herlinda Heras on Brew Ha Ha today. Mark Carpenter is the former co-host of this show who began working at Anchor in 1971. Author Dave Burkhart has been with Anchor Brewing Co. for thirty-one and a half years. Very early in his tenure began collecting historical documentation of the brewery. His book, The Anchor Brewing Story, has just been published.
Mark and Dave agree that Anchor has a bright future since the new owners (Sapporo) are investing heavily in the company. Dave started at Anchor on a Monday and by the following Saturday, he started researching the company. In 2010, he took the title Anchor Historian. He describes finding out about the original owner Gottfried Breckle, who first went from Germany in 1852 to Valdivia, Chile. It was "the irresistible lure of gold" that brought him to California.
Anchor's Early History
A lot of this early family history is documented on this page of the Anchor Brewing website. Gottfried came to California in late 1953 or early 1854 and worked in the gold fields, then worked for a local brewery. He became an American citizen in 1854. He "did what everyone did in the gold rush, he reinvented himself." Eventually he owned the Golden Gate Brewery in San Francisco, which burned down. He took the insurance money back to Germany and opened a brewery there. Then he came back to San Francisco and opened another brewery in the Russian Hill neighborhood. Then he sold it and invested in a saloon that they turned into brewery in 1871. That marks the beginning of the company that became Anchor in 1896.
There were more than thirty breweries in San Francisco in the late 1800s and 847 drinking establishments in town, as well as many corner grocery stores in the city which also served beer in the back room.
The Anchor Pub
There is a pub now at Anchor Brewery that is a showcase for their panorama of beer recipes. One is Humming Ale, which uses Nelson hops. It's the same recipe as Liberty Ale except that uses Cascade hops. That was the first IPA in California, although they did not want to call it that. Fritz Maytag, who was Anchor's owner at the time of its late 1960s rebirth, wanted to make that type of beer that he remembered from his student days back east. It has a lot more hops than other beers at the time.
Anchor Steam Beer
Steam Beer is called a California Common in the beer index books. There are several possible origins of the term Steam Beer. It is a California story and without Anchor there would be none of it. Lager beer needs cold conditions, so there was no ice in the city and they needed to make beer without it. They came up with the idea of a Cool Ship, a large shallow pan with a large surface area. It was exposed to the atmosphere, there were louvered windows in the room. The mean temperature was cooler then than now. When the warm wort was pumped up into the cool ship, the difference in temperature produced steam.
Another theory holds that when they dropped the beer back to the floor below, they added yeast to it. Then they filled large wooden barrels with the beer. If a bartender opened a keg while the beer was still fermenting, tapping the keg would produce a spray that was similar to steam. Yet another idea is that bartenders would pour from different kegs of different ages. The newest beer was the foamiest. So there is some uncertainty about the term.
Today is the forty-seventh anniversary of the first brewing of Anchor Christmas Ale. There is a different tree on the label every year. This year, it is a Blue Gum tree, also known as the Eucalyptus.