Podcast: Play in new window | Download (Duration: 11:33 — 10.6MB) | Embed
Subscribe: Apple Podcasts | RSS
Sandro Tamburin, brewer at Old Possum Brewing Co. and Scott Bice from Redwood Hill Farms are back on Brew Ha Ha with Steve Jaxon today. Sandro Tamburin comes from Trieste, Italy, and spent time in Dallas Texas in the restaurant business before coming to California to study at Davis and to make beer and wine. Now he makes beer at Old Possum Brewing Co. and he makes wine for D'Argenzio Winery. Follow the Old Possum Instagram page for up-to-the-minute news about menus and music at Old Possum Brewery.
Scott Bice's family operates Redwood Hill Farms, a great producer of goat cheese and other products of goat's milk. They also have started growing hops and since this is hops season the wet hopped beers are appearing.
To make wet hopped beer, you have to get the fresh hops into the vat as soon as possible.  Russian River is making their Hop Time Harvest beer, a wet hopped beer.
"Every time you buy from a small business, the owner does a little dance."  – Sandro Tamburin
Sandro says that their aged goat cheese reminds him of Grana Padano. They taste some goat cheeses with the wet hopped beer. Sandro describes the brewing process. The Old Possum beers are available at many local shops and restaurants.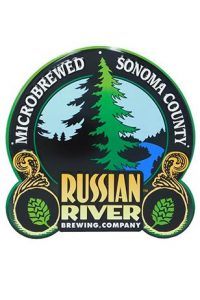 Natalie Cilurzo also joins us on the phone, for an update on Russian River Brewing Company's operations during and within Coronavirus restrictions, from their Santa Rosa and Windsor locations. She also describes picking hops today at Crane Ranch and Redwood Hill Farms. They got some fresh hops to add wet hops to the kettle in the Santa Rosa brewery. It's called Hop Time Harvest Ale, it's 100% wet hopped.
The downtown pub is open daily from 11-8 for pick-up orders. Visit the website for the menu and call (707) 545-BEER to order for delivery in and around Santa Rosa. They are all wearing masks, keeping distance and sanitizing everything so they have a safe environment. They are able to ship beer directly to customers but only inside California.