Podcast: Play in new window | Download (Duration: 25:40 — 11.8MB) | Embed
Subscribe: Apple Podcasts | RSS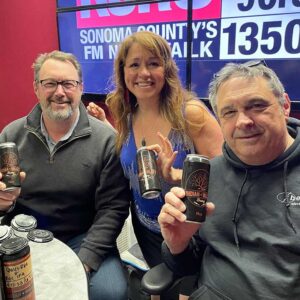 Indian Valley Brewing co-founders Joe and Matt Tachis visit Brew Ha Ha with Harry Duke and Herlinda Heras today.
Their story begins in the 1950s when their father came back from Korea and went to work for Hamm's brewery in San Francisco. He was their west coast sales manager, there was beer around the house.
From the back room to the taproom.
They started Indian Valley in 2017. They were home brewing with their father and brothers. People liked their beer, so they started the brewery in back of Joe's electrical shop and started distributing to bars and restaurants. Now they have a taproom in Novato, near the Novato smart train station. The whole family was there to help along the way, to work on everything.
The taproom is open every day. There are some food trucks that park nearby. They have Mexican food on Friday nights, which gets a great turnout, and pizza and trivia on Thursday nights. It is open 3-8pm Mon.-Thurs., 3-9pm on Friday, 2-8pm on Saturday and 12-5pm on Sunday. Kids and dogs are welcome.
Joe likes the lighter beers, blondes, lagers and pilsners, and Matt likes "the maltier stuff" so ales and porters. They are tasting the Hazy Blonde Ale, it's refreshing and light. This recipe came from their original home brewing activity. Next they taste the Hopalong, their flagship IPA. This is the brainchild of their brewer Sean Cochrane.
Why they say "Keep your day job"
Joe and Matt still work their day jobs and Sean makes beer full time. The brothers still do a lot of work, since they have pro construction skills. They just finished installing a conventional system. They bought a used system that came with no information about how to operate it apart from the burners. Their brewing capacity is three barrels. Their beer is on tap for now at the taproom and they have a one-at-a-time 16-oz. canning machine. They usually have 12 or 13 taps at a time available, with some rotating in and out roughly monthly.
Some of their beers, like their father's favorite Scotch Ale, are always there, since the customers demand them. It is malty and dry. It's called Grumpa's which is a grandchild's variation on Grandpa. It won Battle of the Brews for best ale, and best in show too, the year before. At the most recent edition of the competition, they were on the new equipment which was not quite perfectly set up, and they didn't win.
The taproom has wood panelling which keeps the room quiet, compared to rooms with concrete walls which make a noisier locale. This is a choice, so people can hear each other's conversation.