Podcast: Play in new window | Download (Duration: 20:17 — 9.3MB) | Embed
Subscribe: Apple Podcasts | RSS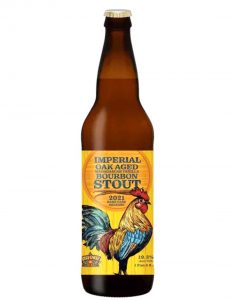 Lost Coast Brewery's master brewer Jack Van Stone is our guest on Brew Ha Ha with Steve Jaxon and Mark Carpenter. Herlinda Heras is also in the studio today and Harry Duke is sitting in for Steve Jaxon. Lost Coast Brewery is located on the northern California coast, in a remote section that is directly served by neither Highway 1 nor Highway 101.
The CBC Craft Brewers Conference is this week in Denver, also the World Beer Cup is there. Herlinda will miss this event for the first time in years. Tara Nurin is there promoting her new book and she will report on the winner of the World Beer Cup and more, including local winners for us, in an upcoming episode.
Jack Van Stone has been a friend of Herlinda Heras for fifteen years. The Lost Coast brewery owner is in Tara Nurin's book on the history of women and beer. On their website, Lost Coast Brewery claims to "not just another craft brewery" which comes from its unique status. The founders were two women who quit their professional jobs, went to Europe to learn brewing, and then came back to found Lost Coast Brewery in Eureka, California. Jack Van Stone tells the story of how they moved to larger spaces as they grew. For the last seven years they have been operating a gorgeous modern brewery in Eureka.
The artist who drew their artwork knew the founders because he would sit and drink beer and draw pictures. They liked his drawings and so they hired him to do their labels. He also has drawn murals all over Eureka.
They already had some Tangerine Wheat beer and now some Downtown Brown Ale. They actually use tangerine extract, added only after the wheat beer is done. It is now their flagship beer. It was seasonal at first.
Jack Van Stone mentions several breweries on a sort of Humboldt County beer trail, which, apart from Lost Coast Brewery, includes Eel River Brewing, Mad River Brewing, Six Rivers Brewery, Redwood Curtain Brewing Company and also Humboldt Cider Company.
Jack tells about what a nice place Humboldt County is to visit, and how you should stay at least one night to get the whole experience of such a remote place. Then he describes one more beer, an Imperial Stout aged in French oak barrels. It tastes like a stout but has some of the walnut character from the wood.