Podcast: Play in new window | Download (Duration: 19:58 — 9.1MB) | Embed
Subscribe: Apple Podcasts | RSS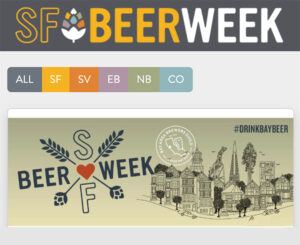 Colin McDonald from Hen House Brewing and Gail Williams join Harry Duke and Herlinda Heras to talk about SF Beer Week 2023. Colin was also on Brew Ha Ha last year at this time, to talk about Hen House's annual Big Chicken release.
SF Beer Week started in 2009 and ran every year except for the Covid year. It is back now, including a lot of interesting creative events and de-centralized parties. From Sonoma to Monterey counties, from the city to Livermore, there are events spread out across the East Bay, North Bay, the City, San Ramon Valley and Silicon Valley.
Big Chicken
Hen House's Big Chicken is produced and shipped so that it can be consumed as fresh as possible. Fog Belt is doing artisanal bacon with their beer. There is even a Beer and Cookie pairing at Monk's Kettle in San Francisco on Feb. 14. Since SF Beer Fest overlaps Valentine's Day, there seem to be a lot of chocolate pairings with beer. Hen House is making a special beer called Valentine's Day Nightmare.
They are sampling a Hen House Pilsner that is light and beautiful with Jasmine flower flavors, called Star Turn. It is soft, bright and crisp with a little honeysuckle sweetness.
Equity and Inclusion in Brewing
They also have a collaboration called Activate, with Crowns and Hops Brewing in Inglewood, a brewery that is black-owned, woman-owned and veteran-owned. Gail tells about how there was an effort to get more black-owned breweries and so they support education and investment for that purpose. They wanted to make taprooms more welcoming and broaden the customer base. The Bay Area Brewers Guild Equity and Inclusion Committee made a collaboration among brewers from 6 breweries, at Drake's in San Leandro. It is called "This Beer Creates Opportunity" and it will fund a diversity-focused endowment at UC Davis.
The beer they are tasting is a Saison, named after the beer that was made for seasonal workers in France. Saison means season. It has some light flavors of black pepper and coriander. Hen House has also done Big Chicken again this year, it is their celebration of quality, freshness and hoppy beer. They like to get as much locally-sourced ingredients as possible. They have more than 180 locations where it is available, on their Instagram page.
The SF Beer Week has a calendar-driven display of all the events happening in all the Bay Area locations, for the duration of Beer Week.