Podcast: Play in new window | Download (Duration: 12:42 — 5.8MB) | Embed
Subscribe: Apple Podcasts | RSS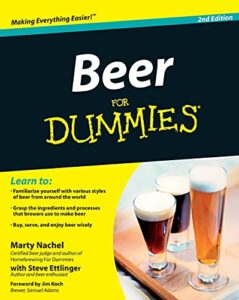 Author Marty Nachel, author of Beer for Dummies, joins Harry Duke and Herlinda Heras on Brew Ha Ha, on the phone from Chicago. Marty has also written How to Judge Beer Like a Pro.
In order begin to judge beer like a pro, the first prerequisite is practice. However that's not all. You have to know beer styles and be familiar with different off aromas and flavors as well. Herlinda agrees and adds that the scientific names of things are important to know, to understand beer at this level. For example, Brett, or Brettanomyces. (The term Brettanomyces comes from the Greek for "British fungus.")
Marty has been in the craft brewing industry in many roles for more than thirty years. He first got interested in beer on a long weekend vacation to Toronto where he took a tour of the Molson brewing company. He had never tasted beer so fresh, and in so many styles in one sitting. The most interesting place he has judged beer is in South Africa. He was lucky to be working with a literary agent who knew the publishers of the for Dummies series. They had just done one on wine so they wanted one on beer too and Marty got the gig. There doesn't seem to be one for Cider yet. Actually he self-published How to Judge Beer Like a Pro, on Amazon.
Marty is in Chicago which is home to some great lager style breweries. Goose Island is the local brewery with a brew pub on Clark St. Lagunitas has also opened a location in Chicago, which just reopened a few weeks ago. They made a big impression there when they opened, but since being acquired by Heineken, the novelty seems to have worn thin there.