Podcast: Play in new window | Download (Duration: 11:03 — 5.1MB) | Embed
Subscribe: Apple Podcasts | RSS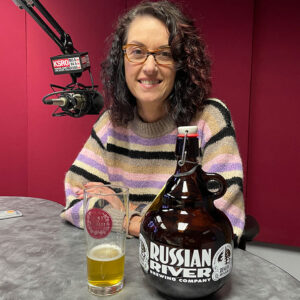 Natalie Cilurzo from Russian River Brewing Company joins Brew Ha Ha with the first growler of the Pliny the Younger 2023 edition.
Later, the subject changes to SF Beer Week, when Colin McDonald from Hen House Brewing and Gail Williams will also be on. That portion of today's live show will have its own separate podcast page, here.
Today's episode of Brew Ha Ha continues a tradition of Russian River Brewing Co. bringing the new Pliny the Younger into the KSRO studios for its first tasting. Here is last year's episode on the same occasion.
Pliny the Younger is a Triple IPA, which means it is a lot hoppier and a little bit higher in alcohol than regular double IPA beers. It is actually a quadruple dry hopped beer. "There is a copious amount of hops in this beer, which gives it that beautiful luscious aroma." The hops are Simcoe, Amarillo, Chinook, Citra, Mosaic, Nectaron, Warrior and Elixir. Elixir, "the strawberry hop," was added last year. Nectaron is the new hop for 2023. It brings nectarine and candied citrus fruit flavors.
Pliny the Younger's official release will happen from March 24 through April 6. It will be on tap in Santa Rosa and Windsor. Guests will be limited to three 10-oz. pours and bottles will be available too, at the brewery. You can purchase bottles or sit down at the brewery. They started local distribution today and there are hundreds of locations serving it.
Rejection is their Valentine's Day Ale. It is on tap and in cans at their two locations.