Podcast: Play in new window | Download (Duration: 16:36 — 22.8MB) | Embed
Subscribe: Apple Podcasts | RSS
Natalie Cilurzo from Russian River Brewing Co. in the studio with Herlinda Heras and Steve Jaxon on Brew Ha Ha today.
Everyone is happy to see each other again after a year apart due to Coronovirus restrictions. Natalie says their Santa Rosa location is still using their park space out in front and they are open daily from 11am to 9:30pm, and Windsor is open Wednesday through Sunday from 11am to 8pm.
The Windsor beer garden is back in action since the meal requirement has been removed. Steve says that if you've never been to the Windsor location, you have to see it. There are beautiful pictures of it on the website that Natalie shot herself. After having to lay off staff, they are happy to have been able to call many of them back.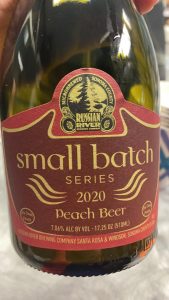 During the pandemic Vinnie Cilurzo was experimenting with recipes and started a beer club. She brought a sour peach beer. Natalie tells the story of how they were able to buy 2000 pounds of peaches after the Wallridge fire. They got hit hard and evacuated. The fruit already-harvested fruit would otherwise have gone to farmers' markets and restaurants which were all closed, and they needed to evacuate. They were happy to buy them and they used them to make this amazing beer. She made this Peach Ale, Pêche means peach in French, and that is how this style is known in Belgium.
They also made a beer to commemorate George Segal who lived in Sonoma County and passed away recently in Santa Rosa at the age of 87. He lived in Graton half of each year, his son owns two local restaurants, Underwood and Willow Wood. George Segal's father was a hop broker in New York long ago. He sold Sonoma County cluster hops to big brewers. They still raise hops on Segal ranch in Grand View, Washington. John Sr. was selling hops to Anchor since the '70s. Mark Carpenter could tell about that but his first grandchild, a daughter, was born today so Mark is with his family today. Congratulations, Mark.
The Segal beer did not pass their QC test yesterday, so they are not releasing it today, but they are brewing it again tomorrow and in two weeks they will have it again, and she'll bring it in to let Mark talk about it. It's called Segal Select, a pale ale made with 100% Segal Ranch hops, Cascade, Chinook, Centennial and Comet.
Herlinda mentions that today is Earth Day and asks Natalie about sustainability practices at RRBC. These practices are easier to install at first in something new. It was a Greenfield project, which means you purchase a piece of property that has had nothing on it. It was a horse ranch. They have 4 acres of protected wetlands on the property. All the water that runs off the property goes into the wetlands. There are no storm drains on the property. They also have a wastewater treatment plant where they treat all their brewing effluent. They also do reverse osmosis and use the water not for drinking but for any other purposes like washsdowns of tanks. They recapture about 75% of brewing effluent. They have "purple pipe" treated wastewater. Their plumbing is set up to convert to purple pipe as soon as the supply is available.