Podcast: Play in new window | Download (Duration: 25:11 — 23.1MB) | Embed
Subscribe: Apple Podcasts | RSS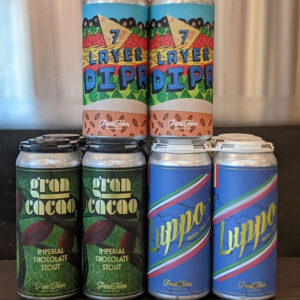 Pond Farm Brewing Company co-owners and co-founders Trevor and Stephanie Martens join Harry Duke and Herlinda Heras on Brew Ha Ha today. They own and operate Pond Farm Brewing in nearby San Rafael, California.
The name Pond Farm Brewing has a fun history. Pond Farm was an artists' residency and workshop that started in the 1940s, in Guerneville. It became known for pottery in the 1950s as the studio of Marguerite Wildenhain, a famous potter originally from Germany.
Trevor's father was there so he remembers how the community was focused on craft and disciplined work habits. They also have other professional careers. When they chose the name, they had not chosen the location yet. Trevor tells about the transition from aerospace engineering to brewing. He took an internship at Fogbelt, to see how the hobby could feel as a full time job.
Among all their beers, they first taste the San Rafael Lager, a Mexican style lager beer with a hint of corn sweetness. Trevor mentions that they use malt from Admiral Malting in Alameda.
The Location
Part of their dream was to have a good physical location that felt happy and welcoming. The building they are in has all the beer hall vibes they wanted, with lots of natural light and high ceilings. They actually bought the building and have put solar on the roof! It is a great spot for social gatherings of all kinds. They have been serving beer for about three years but the kitchen has been open for about a month and half. They have pretzels, wings, salads, grilled cheese, brats, veggie sandwiches and kid's fare too. Pond Farm's approach to the beer is to have a full hand of popular styles, with the core beers people like, plus some others in rotation.
"There are so many styles to drink and to brew and it's hard to only do the same thing over and over." – Trevor Martens
Pond Farm Brewing is located at 1848 4th St. in San Rafael. They are open Tuesday through Sunday, 3pm-9pm, Friday and Saturday 12noon-10pm, Sunday 12noon-8pm. They have live music there on Saturdays, including popular local bands such as Fairfax Social Club coming up on May 28. That band shares a lot of regulars with the brew house.
Other Pond Farm Brews
Previously they tasted the 6.8% Hazy IPA, aka a New England IPA. It is one of the four beers that they opened with. It is more balanced than a lot of hazy beers. As they go through tasting the other beers, the first is Lucy, a bourbon barrel aged imperial brown ale. Same As It Never Was is a west coast style that always comes in at 6.7% ABV but uses different hops every time. The label is inspired by the Talking Heads album cover. Another is called Sour Adversity and features a picture of a figure widely believed to have written works of poetry and literature (but who is now known to have been only the front man for the true author). Adrift is a pale ale with a 5.4% ABV, inspired by Sierra Nevada's style with a little bit more hop flavors.