Podcast: Play in new window | Download (Duration: 6:52 — 6.3MB) | Embed
Subscribe: Apple Podcasts | RSS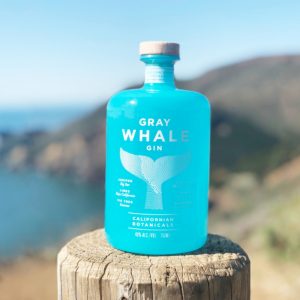 Jan and Marsh from Gray Whale Gin join Steve Jaxon and Herlinda Heras on Brew Ha Ha today. This show was recorded live on May 7 of this year. The regularly scheduled live Brew Ha Ha is preempted today for ongoing coverage of the Lightning Complex fires in Sonoma and Napa counties.
Gray Whale Gin is made with ingredients that are foraged and harvested all along the west coast of Mexico and California, the range of the Pacific Gray Whale. There is lime harvested in Baja California, juniper and mint from the central California coast, and more. He invites bartenders to submit recipes for cocktails that highlight their flavors and in return for the promotion they will send a bottle of their gin.
Jan explains how she and Marsh thought there was a need for more craft spirits from California that used local ingredients and that highlighted the region. Marsh tells how the Gray Whales have the longest known migration in the world, 12,000 miles from the Arctic to the Gulf of California. "We couldn't think of a more fitting way to say, 'California, we love you.'"
Also, as seen on the back of their bottle, they contribute to conservation through Oceana and 1% for the Planet.
They are a small company but they still can do a lot to support bartenders, such as their live Instagram features with bartenders. They are proud to be able to pay the bartenders for those contributions.