Podcast: Play in new window | Download (Duration: 25:46 — 23.6MB) | Embed
Subscribe: Apple Podcasts | RSS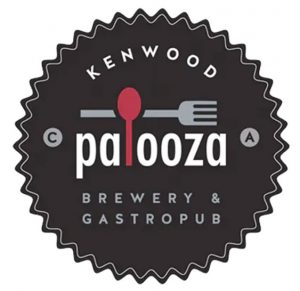 Palooza Brewery & Gastropub co-founder Jeff Tyler visits with Steve Jaxon and Herlinda Heras on this edition of the Brew Ha Ha podcast. Palooza is located on Sonoma Highway in Kenwood. Jeff Tyler has brought food and beer from Palooza, to show some beer and food pairings.
Jeff Tyler was working in construction in 2008 when the economy went bust. He started a hot dog stand, that grew into a catering business, then he opened this restaurant that has been open for six years. They have a lot of space on six patios and the scenery around there is beautiful. They actually do also ferment beer on site. Palooza also does pick-up up to about 8 or 9 o'clock.
They are drinking what Jeff Tyler calls the Porch Pounder, a 4.5% alcohol pilsner. They also have "The Mask Dropper" which is an IPA much stronger. It's 6.8 or 6.9% alcohol. Herlinda notes that the bitterness in an IPA goes well with spicy food.
Palooza is located near Kunde Winery and others in Kenwood. They can seat 155 people, in clusters of up to ten, in ways that respect social distancing rules. There is tape on the ground to set borders and everyone must wear a mask. You place your order at the counter and you get a buzzer that tells you when your food is ready. Then they will serve further drinks at your table. There is lots of free parking and also lots of shade. If there are people there, they will stay open.
Jeff Tyler attended Herlinda Heras' beer appreciation class at Sonoma State University extension.
The Beverage People has been Sonoma County's fermentation experts since 1980. They have everything you need for home brewing, winemaking, and also for making cider, mead, kombucha, kefir, cheese, olives, yogurt and more. Their friendly and knowledgeable staff will advise you about what you want to do and how to use the equipment. (Under normal circumstances they hold classes but not right now due to the Coronavirus.)
Open Tuesday through Saturday
pre-order curbside hours are 10 am – 6:30pm,
walk-up hours are shorter, noon to 4pm.