Podcast: Play in new window | Download (Duration: 13:39 — 12.5MB) | Embed
Subscribe: Apple Podcasts | RSS
Sipsong Spirits founder Tara Jasper joins Michelle Marquez (sitting in for Steve Jaxon) and Herlinda Heras on Brew Ha Ha today. Sipsong Spirits has recently won a double gold medal at the San Francisco World's Fair for its Indira Gin.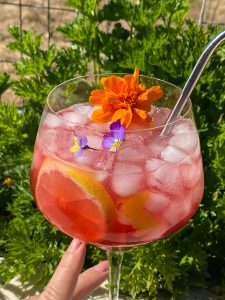 Tara Jasper says she never thought she would be distilling gin. She began her career working for other people and then heard the wisdom that people should do what they love. So she enrolled at Santa Rosa Junior College in the culinary program. She experimented with making flavored liqueurs. In order to make liqueurs better, she had to become a distiller. Indira Gin also supports a good cause. Tara is a breast cancer survivor and she supports "Fight like a Girl" which is a breast cancer support community.
Herlinda has made a cocktail with Sipsong Spirits' Indira Gin (using a shaker that we hear at 5:51).
You can order from their website and if you live in Sonoma County, shipping is free. They also have a line of teas. Their products are available at Bottle Barn and Oliver's markets.
Sipsong Spirits has not entered very many competitions. Tara first entered a contest in Singapore, since she thought her gin, being not a common one, might not be as well understood here at home. When she won a Silver medal there, in a big competition with only a few winners, she felt more confident. She made a couple of edits to her recipe, "I pulled back a little bit on the cumin," and she also describes how she changed the spirit base. The modified recipe is what won in San Francisco. She describes how her husband helps her and participates in the business.