Podcast: Play in new window | Download (Duration: 50:32 — 23.1MB) | Embed
Subscribe: Apple Podcasts | RSS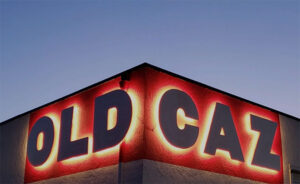 Bryan Rengel, co-founder of Old Caz Beer, joins Steve Jaxon and Herlinda Heras in the studio today on Brew Ha Ha. Co-founder Tom Edwards was on California Wine Country on this episode on March 31, 2022. Also in this show we will hear from Herlinda Heras who is just back from a lightning trip to Liverpool, England last weekend.
Old Caz celebrated an anniversary last weekend. They shut the parking lot down on Saturday and had a standing room only party. Old Caz Beer is named after Old Cazadero Road. They are actually located in Rhonert Park. He and his partner met at Sonoma State on the rowing team. They were also into cycling and wanted to name a brewery after a road in west Sonoma County. They settled on Old Cazadero Road, because he describes it as a "six-mile death climb" with all kinds of exposure to sun and shade. It has all of west county in one beautiful six-mile hill.
From Scuba to Beer
After college Bryan worked as an underwater welder in the Gulf of Mexico, later in Africa and then in Alaska. He was the captain of a gold dredging boat in Alaska named the Midas, which is the name of their blonde beer today. After his second summer in Alaska, his friend Tom was working at Bear Republic and they decided to start a brewery together then.
They have been in business for five years and have had the taproom for four years. "It's been a hell of a ride," says Bryan.
Their taproom is open every day of the week, weekdays 3-9, Saturdays noon – 10 and Sunday noon – 7. They have food trucks almost every day. Their goal is to have them seven days a week. Old Caz makes a lot of different varieties and Bryan says they make a beer for everyone. It's a long list. There is one called Orange Crush, an Imperial Kettle Sour. It is an 8% beer that tastes like a mimosa.
They taste their Bukovany Pivo, a Czech Pilsner. It just won Gold at the US Open. It is a crisp, clean refreshing Pilsner. Bryan says, "We only make crushable beer." It's another term they made up for a good beer that you will want a second and a third of.
Herlinda in Liverpool
Herlinda has arrived from SFO just today, having returned from England. She had to go to Liverpool for a chance to interview Frieda, the former manager of the Beatles' fan club. She met Pete Best when he played in Sonoma County. He has opened a Beatles Museum in Liverpool and Herlinda made their acquaintance. She hardly did any interviews at the time. She also got a chance to meet other people associated with the band. Herlinda describes a kind of present-day Beatlemania she experienced during the trip. "I'm kind of tired, actually," says Herlinda, without a hint of irony.
She also saw Burning Man from the sky flying in.
We don't do things normal, we do things 'extra credit.' – Bryan Rengel, Old Caz Beer
Bryan describes how Old Caz got a lot of free equipment from Craigslist. His partner Tom also tells that story on his CWC interview back in March, 2022. His new space in SOMA Village is under construction and they hope it is all ready by the end of the year.