Podcast: Play in new window | Download (Duration: 22:41 — 10.4MB) | Embed
Subscribe: Apple Podcasts | RSS
Crooked Goat Brewing and Valley Ford Cheese make up the beer and food pairing on this week's podcast episode of Brew Ha Ha. Brew Ha Ha today features Karen Bianchi from Valley Ford Cheese Company and Paul Vianello of Crooked Goat Brewing, who both join Herlinda Heras and Harry Duke who is sitting in for Steve Jaxon. Curtis Bedford is also in the studio, staying through from the previous segment live on The Drive on KSRO. (This podcast episode, published Sept. 30, 2021, was recorded live on the air on Sept. 23, 2021.)
Vinnie and Natalie from Russian River Brewing Co. were just recently on a trip to Washington to choose hops for Russian River Brewing Company. Right now they are making two seasonal beers, Dribble Belt and Happy Hops. They will be in the studio next week with their fresh wet hopped beer and some fresh hops too.
Paul Vianello has brought a variety of beers from Crooked Goat Brewery. The beer is in massive 32-ounce cans, Vanilla Bean, Blackberry Ale and a honey beer. Blackberry Ale is popular on warm days. It's a light easy-drinking beer with a hint of raspberry. Born to Run and uses hops from the Alexander Valley. They even ran into Vinnie from RRBC when they were up there hop hunting.
"We survived the flood, we survived the pandemic, we survived the fires." -Paul Vianello
Their new brewer Ilya and assistant brewmaster Rich make a good team. They are hoping to open a second location in Petaluma by next year.
Valley Ford Cheese & Creamery
Karen Bianchi from Valley Ford Cheese has brought three cheeses: Highway One, Estero Gold extra aged, and some Gorgonzola, which is young and not piquant.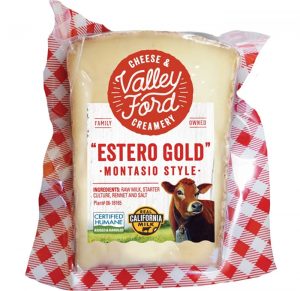 They have a new location, a marketplace and restaurant on Hwy 1, between Petaluma and Bodega, about 6 miles in from Bodega Bay. They opened their new space two years ago and managed to survive the pandemic.
Karen has brought in one of their signature sandwiches too. They also make their own home made potato chips, daily. They also make Pastrami, and the sandwich from it. The Honey Ale goes with the Rueben sandwich. Its sister beer is the Blackberry Beer, called Bramble. Crooked Goat has no kitchen of its own but offers access to food from various food vendors at the Barlow. There is a great core group of adjacent restaurants, so you can order food from any of them.
The Beet Beer is the beer for someone who doesn't love IPA. It's a honey ale. They add the honey during a boil in the brewing. The Blackberry is made by adding a puree of the fruit.
---
Brew Ha Ha "Brews News with Herlinda" is sponsored by Russian River Brewing Co. and by The Beverage People / Fermenter's Warehouse.
Brew Ha Ha is sponsored by the Santa Rosa branch of Yoga Six located in Coddingtown Center.

---