Podcast: Play in new window | Download (Duration: 18:57 — 8.7MB) | Embed
Subscribe: Apple Podcasts | RSS
Today on Brew Ha Ha our guests from Barrel Brothers brewing Company. are Wesley Deal, a founder and brewmaster of Barrel Brothers. We also have Barrel Brothers account rep Tom and JJ from Becoming Independent, who will describe their new collaboration.
Wesley Deal is a founder and brewmaster of Barrel Brothers Brewing Company. Tony is an account rep. Wes tells how his brother Daniel and father-in-law Tom got started with a home brew kit and formed a brewing partnership. He also did the UC Davis brewing program. Barrel Brothers Brewing Company was founded in 2015. They are located in Windsor with a taproom, but they are mostly production focussed. They do live music and food trucks every Friday.
Becoming Independent, a local organization that helps people with any kind of developmental disabilities. JJ explains their connection to Barrel Brothers is that they are the sole concessionaire on the local Smart Train, providing food and beverage service and they have collaborated on a Barrel Brothers beer that they serve on the train.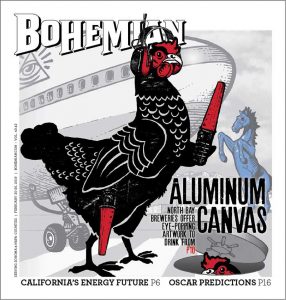 Steve mentions the cover story on the North Bay Bohemian this week is about the creative graphic artwork associated with the craft brewing movement.
The IPA that Barrel Brothers has made to help Becoming Independent is for sale on the Smart Train and other places. Mark says it's an IPA more towards a pale ale. They took their hazy IPA recipe and fermented it with California ale yeast. Classic West Coast IPAs are usually clear, a little bitter, dryer. Hazy IPAs are usually more full bodied and tend more toward tropical hops flavors. This uses three kinds of hops, El Dorado, Brew One (both more tropical) and Cascade, a traditional. They did this to appeal to a wide range of palettes and Mark thinks it's a success.
Becoming Independent also sponsors art programs and their art is on this label. "They made the beer in the spirit of the art piece."
Becoming Independent was founded in 1967 by a group of parents that got together to take care of their families' needs. They run a professional arts program and train individuals for jobs based on the individual's goals. Steve Jaxon has been a big supporter of Becoming Independent for 30 years in Sonoma County. JJ describes how the Barrel Brothers and Becoming Independent collaboration evolved. He worked with the Barrel Brothers to get their beer on sale on the Smart Train for one month, then it was renewed, then they decided to brew the special beer.