Podcast: Play in new window | Download (Duration: 20:07 — 9.2MB) | Embed
Subscribe: Apple Podcasts | RSS
Today on Brew Ha Ha Steve Jaxon gets the whole story from Mark Carpenter about Anchor Brewing, its history and historical context, its production and its role in American brewing. (We were expecting guests from San Francisco's Fort Point Beer Co. but they are stuck in traffic and will reschedule.)
Mark Carpenter started working at Anchor Brewing in 1971 after he met its owner Fritz Maytag. Mark was looking for a more interesting and rewarding line of work and found that at Anchor. Mark retired a few years ago and Anchor's new brewmaster is Ramon Tamayo, who was also on the show recently.
Right now, Mark is tasting a Shadow of a Doubt Imperial Porter from Russian River Brewing Co. It's warm but it's fine, Mark says that if a beer is good it should be good at room temperature too.
"In warm countries they drink cold beer, in cold countries they drink warm beer." The beer is named after the Alfred Hitchcock film Shadow of a Doubt which was filmed in Santa Rosa in 1943.
Mark talks about the Fort Point, an interesting brewery, says Mark. They do a Kölsch. All over Germany, the towns had their own styles of beer. Then Lager beer was invented and they all switched to that. But Kolsch is a surviving local beer from the city of Cologne (called Köln in German). An Imperial Porter means it's a black beer. Compared to a Stout, a Porter is sweeter. It also has nice flavors. "Imperial" means it is higher in alcohol, this is 10%.
So without our expected guests, Steve invites Mark to tell the whole Anchor Brewing story which starts with what a city San Francisco was in the last 1960s. They were protesting the Vietnam War and there was an abundance of great music at venues like the Fillmore. Mark remembers the background of the city where people were looking for ways to do something more inspiring than his "normal" job.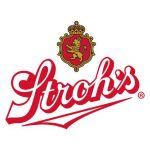 Mark would visit any American city and visit its breweries. He visited Coors in Colorado and Pabst in Wisconsin and took brewery tours. Steve is from Detroit and asks if Mark visited Stroh's there, but he hasn't. Stroh's called itself "fire brewed" which was a common European process in the late 1800s where beer was heated in copper kettles heated by fire, not steam.  Mark says that steam applies less heat than a gas flame which gives some caramel color and flavor that steam does not. Stroh's was the only beer in America that was fire brewed. Stroh's today is owned by Pabst but it's not the same and is not fire brewed anymore.
Mark always says he was lucky to get the job at Anchor. It was the smallest brewery in America at the time. They worked hard to build their reputation. Before they had volume sales, they only brewed once a month but sales steadily increased. Mark gives Fritz Maytag credit for having great business vision for the brewery, from the time he acquired it in 1965. Fritz had heard that the brewery would be closing and he went to visit it. He saw magic and potential and wound up buying it. He would say that he paid "less than you pay for a good car."
It was a nineteenth century brewery. There was no refrigeration. It was a very crude little brewery and Fritz invested money into it. Fritz wanted to make sure that Anchor was known not just for Anchor Steam Beer. At first they had Anchor Steam Dark which simply had caramel coloring added. Fritz wanted to develop the Porter to replace that to do it right. They even started distilling in 1993.