Podcast: Play in new window | Download (Duration: 12:10 — 5.6MB) | Embed
Subscribe: Apple Podcasts | RSS
Scott Bice from Redwood Hill Farms joins Steve Jaxon and Herlinda Heras on Brew Ha Ha today.  Redwood Hill Farms is known for its fine goat cheese and yogurt and now they are also growing hops, under the name Capracopia. Adriana Basurto works at Lagunitas and is also the Secretary for the NorCal Hop Growers Alliance. There are 15 hop growers in Sonoma County with over 10 acres planted to hops. Shone Farms (at Santa Rosa Junior College) is also planting hops. Adriana was a student in the brewing program at Santa Rosa Junior College where the faculty sponsored the opening of the Shone Farms hop field. They are putting on an event on Oct. 20 to teach about growing hops, at the 4th annual Hop Education Seminar. It is a great place to connect to brewers and learn about growing hops, including zoning regulations.
Capracopia: Farm Life and Artisan Food at Redwood Hill Farm:   https://redwoodhillfarm.org/
Redwood Hill Farm, artisan goat milk dairy:  https://redwoodhill.com/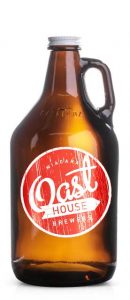 They are drinking an Oast House Ale made with their Columbus hops. Matt Fritz the brewer supports the local hop farmers. They can pick hops and make wet hop beers, which requires the hops to get from the field to the brewery in an hour. An Oast house was where they used to dry the hops. Brewers generally use dry hops and they are lucky to live near fields and brewers that make wet hopped beer possible.
Mark Carpenter is not in the studio today but texts in to ask how many kinds of hops are grown here. There are probably about 20 hop varieties being grown in the area.
The hop farms in the US are mostly up in Yakima Valley in Washington state, which is at a higher latitude, more like the latitude of the original European hop farms.
Some hops are proprietary strains but several good ones are "public varieties" which anyone can grow.