Podcast: Play in new window | Download (Duration: 11:22 — 5.2MB) | Embed
Subscribe: Apple Podcasts | RSS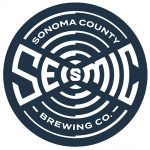 This special Tuesday edition of Brew Ha Ha features Christopher Jackson, from Seismic Brewing. His family owns Jackson Family Wines. He felt brewing and winemaking are closely related that he wanted to make world-class beer in an environmentally sustainable way. He and his partners started planning four years ago and started producing two years ago.
Now Seismic Brewing has a new home of its own. They are opening a new taproom in Sebastopol. Its first day is tomorrow, July 3. It is right on Sebastopol Avenue, Hwy 12 turns into Sebastopol Ave. just as you enter the town. They have about 30,000 cars per day that pass by.
They will not make their own food but Kendra from Farmer's Wife will provide sandwiches, Sebastopol Cookie Co. has cookies and Volo Chocolate from Windsor is also there. They will have as many as 12 or 15 beers at one time, with 13 to start with. Herlinda has sampled every one and Christohper has brought the Steinstrasse and Danger Zone brews. Danger Zone won a Silver Medal. It is very tart and if you like that style, it's great. "If you like light American lagers, or if you like heavy-handed IPAs, we've got something for everyone."
Christopher is proud that his brewery was built with sustainable practices including water efficiency and is close to carbon neutrality. He credits Ken Grossman for helping him by sharing his wisdom and experience. He has spoken to all the prominent local brewers to learn about their best practices.
Next week, Dave McLean from Admiral Malting will be in the studio talking about Outside Lands, the beer and music festival set for next August.