Podcast: Play in new window | Download (Duration: 23:33 — 10.8MB) | Embed
Subscribe: Apple Podcasts | RSS
Brian Hunt from Moonlight Brewing joins Steve Jaxon, Mark Carpenter and Herlinda Heras today. Also with us are Sherry and Jeff Soleski makers of Comet Corn.
Steve introduces Mark Carpenter who was for a long time the brewmaster for Anchor Brewing. He describes the history of Anchor Steam Beer, whose name comes from a nickname for the beer which was on draught and highly carbonated.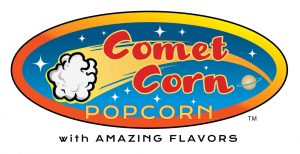 Herlinda Heras introduces Sherry and Jeff Soleski, makers of Comet Corn including the famous Hippie Dust flavor that you see at all the taprooms and music festivals. Jeff tells about why and how they started back in 2002. They agree you could pair a porter or a stout with the Maple Syrup flavored popcorn.
Mark Carpenter introduces Brian Hunt who worked for Schlitz in Milwaukee before starting Moonlight Brewing. Stroh's then bought Schlitz. Steve remembers their label that said it was "fire brewed" even if as Brian says, all beer actually is. Brian worked there for a year and a half.
Mark says that the Schlitz brewery in Milwaukee was a fabulous old all-copper brewery. Brian says the Schlitz brewery was built in 1846 and looked its age. It was built in Milwaukee cream brick. Milwaukee was known as "The Cream City" because of the cream-colored bricks made from local clay that gave it that color. Brian Hunt graduated from UC Davis in 1980 and then went to work for Schlitz. Mark tells about the great history of old breweries in the US. You can usually spot the old breweries in many cities. For instance in San Francisco at 10th and Folsom there is one.
Brian says you could smell the beer being made all over the city. You could also smell the chocolate from the Ambrosia chocolate factory.
Mark says that he was always impressed with what Brian was doing, starting his nano-brewery in 1992 in a barn behind his house. Brian says that Death and Taxes is their most famous beer but there are others. Herlinda tells about Legal Tender, a beer made without hops, and says that Brian is known for doing that. "Hops is just a spice," says Brian. Steve says he thought it was hops, but Brian replies that it's Malt that's the soul of beer and goes on to describe all the components. Brian describes a New Year's beer called Toast that tastes like toast, for toasting. It will only be available on draught.