Podcast: Play in new window | Download (Duration: 27:56 — 12.8MB) | Embed
Subscribe: Apple Podcasts | RSS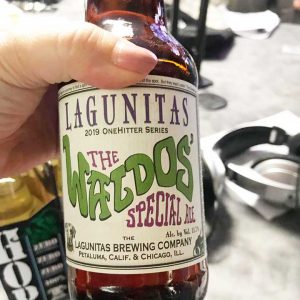 Today we meet the 420 Waldos, the guys who started the term "420" back when they were in high school in Marin County in the 1970s.
They tell the story of how they invented the name Waldos at San Rafael High School in 1971. They go by "Waldo Dave" and "Waldo Steve" and Herlinda has also invited Sam from Lagunitas. Herlinda met them at a Lagunitas limited-release party a few years ago.
Steve and Dave tell about being high school students who hung out and kept themselves amused with interesting things they discovered. They took trips looking for inspiration. They heard about some hologram inventors in Palo Alto. He brought his friends the next week and Dave named these trips a "Safari" which meant it was like a scouts trip, but they were high.
They called themselves the Waldos because they would hang out on a wall, cracking jokes. One of them sais his brother was in the Coast Guard and rumor had it there was a secret pot garden that some of them had started. They had a map so they decided to meet at 4:20 PM in front of the statue of Louis Pasteur to get high before they went out looking for the patch. They would say "420 Louis" then just "420" and they liked that they could talk about pot without others understanding. When they went away to college, others picked up the expression. One of their brothers was good friends with the bass player of the Grateful Dead. He worked as a roadie and ticket collector for the band. They had a lot of fun and spread the term among the Deadheads that attended the shows. It seeped into their lexicon.
They can't trademark the term "420" because it is too much in common usage. But they do have trademarks on "420 Waldos" and "1971 420 Waldos."
They taste the Waldo Special Ale which is 11.7% alcohol. About eight years ago Ron Lindenbusch had done some other tribute beers with Frank Zappa and his family, and others. They had tons of barrels with different hops. They chose the hops that smelled the most like marijuana and used them to brew the beer. It's a big hoppy triple IPA. Some Columbus, Citrus, Mosaic hops, which all together resemble the flavors of marijuana.
The Waldos hung out on a wall in between classes, not while smoking, but they make jokes there and 420 was only the tip of the iceberg of their whole Waldo culture of inside jokes and wisecracks.
Mark Carpenter also talks about the Lagunitas Daytime beer that he is drinking today, which is only about 4% alcohol.
Herlinda mentions HR 420, a bill in Congress to take Marijuana off Schedule One, a list that includes hard drugs.
In the late 90s, High Times magazine met with them and wrote an article about them. Then in the early 2000s, the term spread on the Internet. There was a celebration on Hippie Hill in San Francisco  and they took care to clean up the trash that was being left. They still remind people to pick up their trash.
For the rest of the show they tell story after story about the Waldos and their hilarious history.